If you're like most people, you love brunch. There's something about this meal that just makes it special. Maybe it's the combination of breakfast and lunch foods. Or maybe it's the fact that you can relax and take your time eating without having to worry about being late for work. Whatever the reason, brunch has become one of the most popular meals in America and is rapidly growing in UK. Let's take a look at how brunch has grown in popularity over the last decade and explore some ways to run one and explore some recipes.

What is brunch time?
Brunch time is the perfect time to gather with friends and family and enjoy a leisurely meal. It's also a great opportunity to try new foods and recipes.
Over the last decade, brunch has become increasingly popular. Restaurants, pubs, cafes, and hotels have all started offering this meal. In many cases, brunch has become an occasion in itself.
There are a number of reasons for this trend. First, people are now more likely to have weekends off work. This means they have more time to socialise and enjoy leisure activities. Second, brunch offers a great opportunity to try new foods and recipes. Finally, many people see brunch as a chance to catch up with friends and family.
What food is served at brunch?
While the term "brunch" is thought to have originated in England in the late 1800s, it wasn't until the 1930s that this meal began to gain popularity in America. Originally, brunch was seen as a way to avoid getting too drunk at lunchtime and then having to suffer through an entire workday.
Nowadays, brunch has become a social event where friends and family can gather to enjoy good food and conversation. This meal is usually served between late morning and early afternoon, and it often includes both breakfast and lunch items. Common brunch foods include eggs, bacon, sausage, pancakes, waffles, french toast, quiche, bagels, muffins, and fruit. Of course, no brunch is complete without a Mimosa or Bloody Mary!
With its growing popularity, it's no wonder that more and more restaurants are starting to offer brunch. In fact, some establishments have even made brunch their speciality.
The history of brunch
While the meal known as brunch has been around for centuries, it has only recently gained popularity in the United States. Brunch is typically a combination of breakfast and lunch foods, and is often served late in the morning or early afternoon. It can be a casual affair, enjoyed with friends or family, or it can be a more formal meal, complete with table service and a menu.
While the exact origins of brunch are unknown, it is thought to have originated in England in the late 19th century. At that time, upper-class Britons would often enjoy a large midday meal after attending church on Sundays. This meal would typically consist of both breakfast and lunch items, such as eggs, bacon, ham, and various fruits and pastries.
As brunch became more popular in England, it began to spread to other countries. In the United States, brunch gained popularity in the 1930s, thanks in part to Hollywood films that depicted glamorous characters enjoying lavish brunches at fashionable restaurants. By the 1970s, brunch had become a staple of American culture, with many restaurants offering special brunch menus on weekends.
Today, brunch is enjoyed by people all over the world. Whether it's a leisurely weekend meal or a special occasion, brunch is a great way to enjoy good food and good company. And with so many delicious options to choose from, it's no wonder that this meal has become so popular.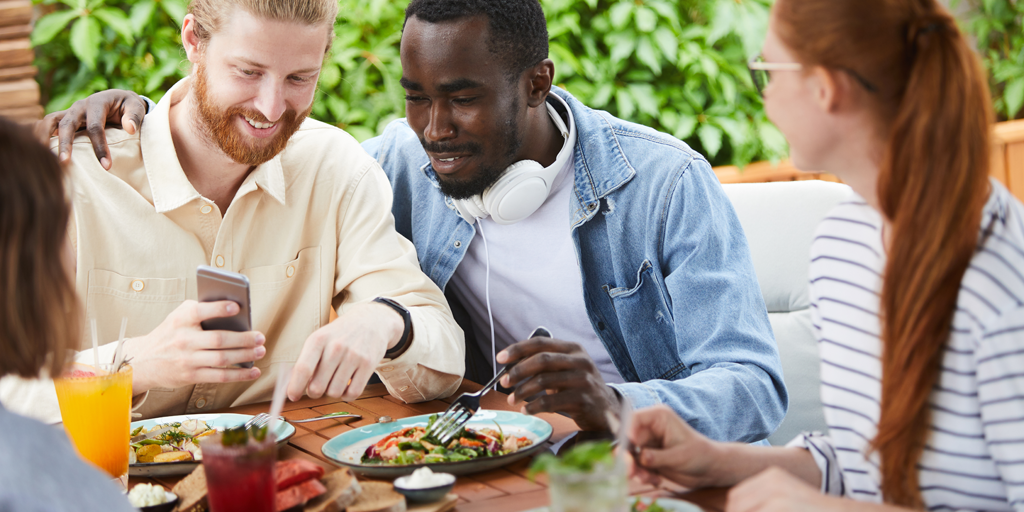 What is the difference between breakfast and brunch?
The main difference between breakfast and brunch is the time of day at which they are eaten. Breakfast is typically eaten first thing in the morning, while brunch is usually served between late morning and early afternoon. Another difference is that brunch often includes both breakfast and lunch items, while breakfast is usually just one or two dishes. Finally, many people see brunch as a social occasion, while breakfast is often seen as a more personal meal.
What is an example of a brunch dish?
A classic example of brunch is eggs Benedict. This dish consists of poached eggs, bacon or ham, and hollandaise sauce on top of a toasted English muffin. Other popular brunch items include pancakes, waffles, french toast, bagels with cream cheese, and quiche. Of course, no meal is complete without a Mimosa or Bloody Mary! When it comes to brunch, there are endless possibilities. Just let your imagination run wild!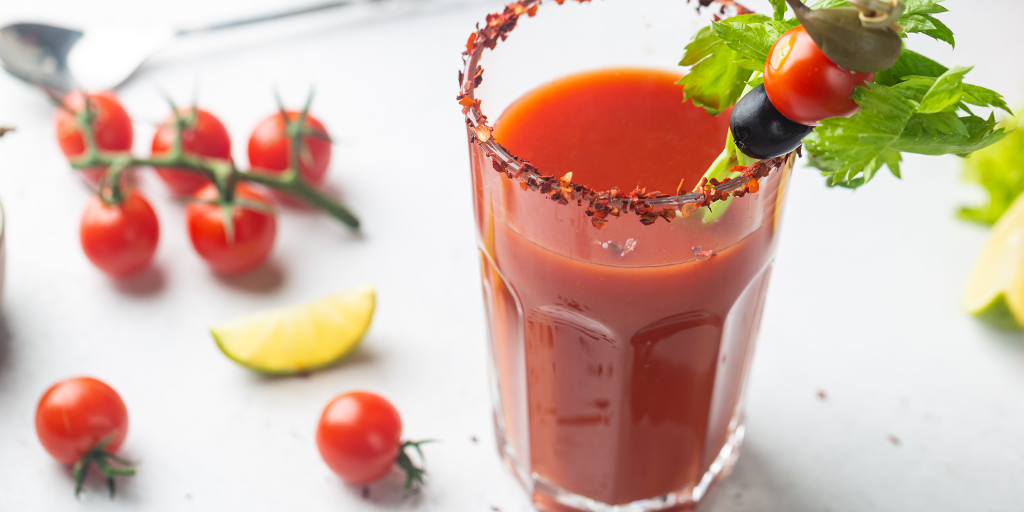 What drinks to serve with brunch?
There are a few drinks that go great with brunch. The most popular option is Mimosa, which is made with champagne and orange juice. Another common choice is Bloody Mary, which is made with vodka, tomato juice, and spices. For those who prefer something non-alcoholic, there are plenty of options as well, such as coffee, tea, and orange juice.
What is a bottomless brunch?
A bottomless brunch is a type of brunch where you can get unlimited refills of your drink. This is usually only available for a set period of time, such as two hours. Bottomless brunches are becoming increasingly popular, especially in cities where there is a lot to do on weekends.
Bottomless brunch menu?
There are a few things to consider when choosing a bottomless brunch menu. First, you'll want to make sure that there is something for everyone. This means having both breakfast and lunch items available. Second, you'll want to make sure that the drinks are flowing freely. This means having a Mimosa or Bloody Mary station set up so that everyone can help themselves.
What are the most popular brunch dishes?
There are a few contenders for the most popular brunch dish, but one that definitely tops the list is avocado toast. This simple dish has taken the world by storm in recent years, and it's easy to see why. Avocado toast is healthy, flavorful, and can be customized to suit any taste. Whether you top it with a poached egg, smoked salmon, or just a sprinkle of salt, avocado toast is sure to please.
Another popular brunch dish is pancakes. Whether you like them plain or loaded with toppings, pancakes are a classic breakfast food that always hits the spot. If you're feeling extra indulgent, try making them with Nutella or chocolate chips mixed into the batter.
No matter what your favourite brunch dish is, one thing is for sure: this meal is here to stay. So next time you're planning a weekend get-together, make sure to include a few of these crowd-pleasers on the menu. Your customers will thank you!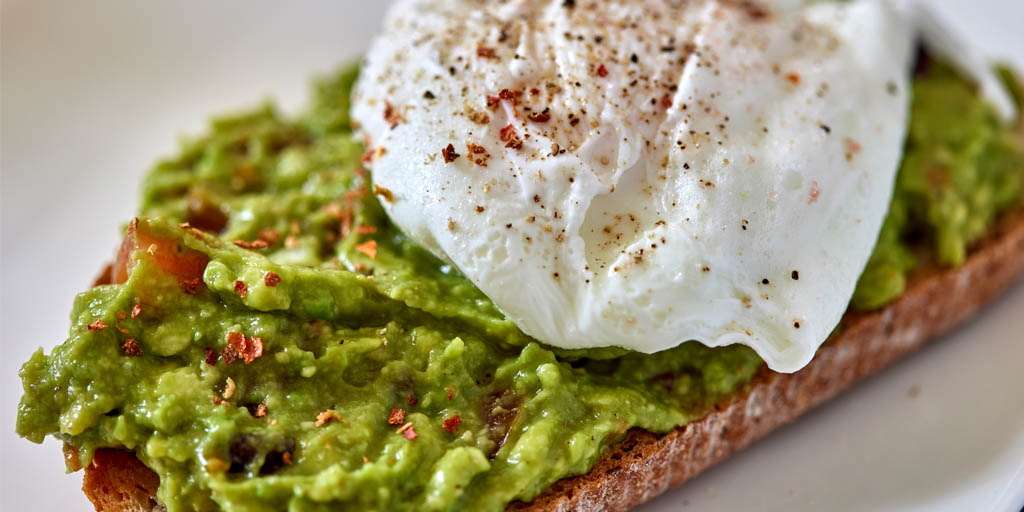 Alternative smashed avocado recipes
If you're looking for an alternative to the classic avocado toast, there are plenty of other ways to enjoy this delicious fruit. Here are three of our favourite smashed avocado recipes:
– Avocado and egg toast: top your toast with a healthy portion of smashed avocado, then add a fried or poached egg on top. Season with salt and pepper to taste.
– Avocado toast with crispy bacon: add some extra protein to your avocado toast by topping it with crispy bacon. Yum!
– Caprese Avocado toast: for a twist on the classic Caprese salad, top your toast with smashed avocado, fresh tomato slices, and mozzarella cheese. Season with salt, pepper, and a drizzle of balsamic vinegar. Delicious!
Alternative Eggs Benedict recipes
If you're bored of the same old eggs benedict recipe, why not try one of these delicious alternatives?
Eggs Florentine is a classic eggs benedict variation that substitutes spinach for Canadian bacon. If you're looking for something a little heartier, try the Eggs Royale, which features smoked salmon instead of Canadian bacon.
For a truly unique Eggs Benedict experience, try the Southern-style biscuits and gravy benedict. This dish features fluffy biscuits smothered in delicious gravy, topped with poached eggs and sausage patties. Trust us, it's as good as it sounds!
Vegan brunch ideas
The rise of brunch has been a boon for vegans, who can now enjoy all the same dishes as their non-vegan counterparts without having to make any substitutions. Here are some delicious vegan brunch ideas to get you started:
-Tofu scramble: Tofu is a great stand-in for eggs in this classic brunch dish. Just add some chopped vegetables and spices to taste.
-Vegan quiche: Quiche is usually off-limits for vegans, but there are plenty of recipes out there for vegan versions made with tofu or chickpea flour.
-Bagels with vegan cream cheese: Bagels and cream cheese are a classic brunch pairing, and there are now plenty of vegan cream cheese options on the market.
-Fruit salad: A healthy and refreshing option that can be dressed up with a drizzle of agave syrup or vegan yoghurt.
-Pancakes: You can make pancakes without eggs by using a banana or some non-dairy milk in the batter. Top with fresh fruit or syrup for a delicious treat.
Baked Egg recipes
When it comes to brunch, one of the most popular items on the menu is baked eggs. This dish is simple to make and can be tailored to your own liking. Whether you like them runny or firm, with cheese or without, there are endless possibilities when it comes to baking eggs.
If you're looking for delicious baked egg inspiration, try Baked Eggs with Spinach and Feta Baked Eggs with Bacon and Gruyere.
---
6 Brunch Dishes to Add to Your Menu
Brunch has become somewhat of an occasion over the last decade, with restaurants, pubs, cafes, and hotels all jumping on the trend. The best thing about brunch is that it can be eaten almost any time of the day – scrambled eggs on toast or an omelette will always be the go-to after a long day and a serious case of 'I-don't-know-what-to-cook'. But because it's become so popular, the pressure is really on for businesses to develop stand-out menus, with something a little different. People don't just want something they can make at home – scrambled eggs we're looking at you – they want exciting, exotic, delicious dishes.
One of the main reasons brunch took off was the ability to make the dishes look so beautiful or 'instagrammable' – as they say. Five years ago, social media was flooded with vibrant smoothie bowls, perfectly poached eggs, and the fluffiest pancake stacks with all the toppings. And it still is, because it's all about eating with your eyes.
To help you develop a vibrant, exciting and of course delicious brunch menu that caters to all, here are a few of our favourite recipes: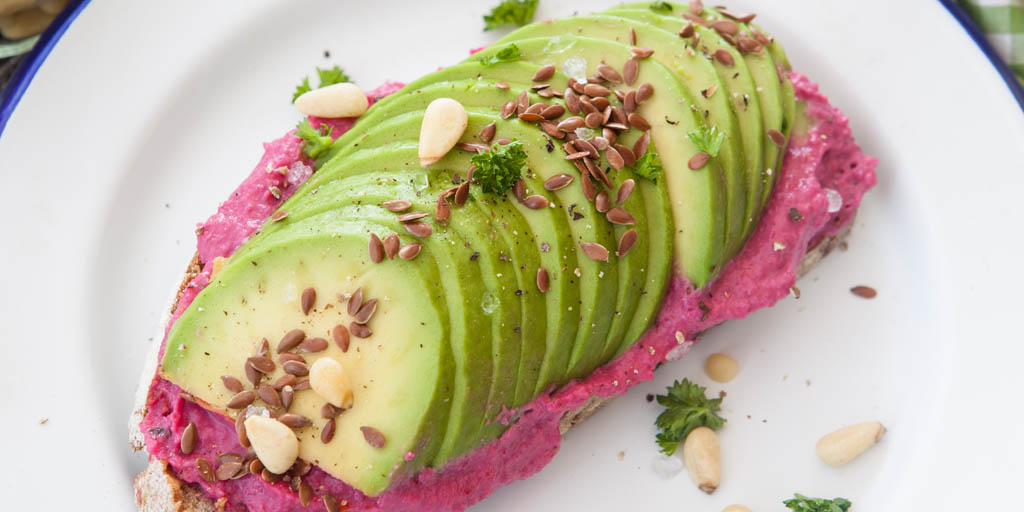 Toasted Sourdough with Beetroot & Horseradish Hummus, Avocado and Toasted Seeds – Vegan
Serves 1
You'll need:
1-2 slices of sourdough (depending on size)
Beetroot and horseradish hummus – recipe here
½ avocado, sliced
Pumpkin seeds and sesame seeds, toasted
Salt
Lime edge
Method:
Toast your sourdough, drizzle with a little olive oil and top with a thick spread of the hummus.
Place half the avocado on top, sliced neatly and sprinkle a little salt on top.
Sprinkle with your toasted seeds and serve with a lime wedge.
Courgette Fritters
Serves 2
You'll need:
50g self-raising flour
½ tsp ground turmeric
1 tsp cumin seeds
3 eggs
1 courgette
Oil
Salt and pepper
Optional to serve:
Fresh coriander / chives
Hot sauce
Yoghurt
Poached egg
Feta
Method:
Place the flour, turmeric, cumin seeds, 1 of the eggs and a good pinch of seasoning into a bowl, then whisk in 50ml of water to create a batter.
Use a spiralizer to turn the courgette into long thin noodles, or a julienne peeler, discarding the really wet inner core, then gently fold into the batter.
Add a little oil to a non-stick frying pan and place over a medium-high heat.
Divide the batter into 4 and cook in batches for 2-3 minutes on each side until golden and puffed, then flip and repeat.
Keep warm in a low oven while the others cook.
Serve with either some yoghurt and fresh coriander or chives, or an oozing poached egg and some feta.
French Toast with Berry Compote
You'll need:
4 slices of bread / white or brioche loaf
2 medium free-range eggs
150ml milk
½ tsp mixed spice
Pinch ground cinnamon
Butter for frying
Berry compote:
1/4 cup caster sugar
300g frozen mixed berries
Select all ingredients
To serve:
Yoghurt / mascarpone to serve
Fresh mint
Method:
Start by making the berry compote: Place the sugar and berries into a small pan and gently cook until the berries have thawed and softened, and the sauce has thickened slightly, about 6-8 minutes. Set aside and leave to cool slightly – adjust sugar depending on the sharpness of berries.
Meanwhile, whisk the eggs with the milk and spices and get your bread ready.
Melt a knob of butter in a frying pan over a medium heat.
Once the butter begins to foam, dip a slice in the egg mixture to coat both sides, then add to the pan and fry for 2 minutes on each side or until golden.
Do this in batches, setting the brioche aside on a plate or keeping warm in the oven – add more butter when required.
Serve topped with the berry compote, yoghurt and fresh mint.
Toast with Peanut Butter and Fresh Berries – Vegan
Serves 1
You'll need:
1-2 slices of bread, toasted – sourdough if possible
Peanut butter (Make sure it has no sugar in it – crunchy or smooth is your choice!)
A handful of blueberries and raspberries
Method:
Smother your toasted sourdough with the peanut butter (add a little butter first to stop it from becoming too 'clay-like'), then top with the berries and serve!
Shakshuka
Serves 2 – To serve neatly, you'll want to cook and serve it in two separate ovenproof dishes, or as one big sharing Shakshuka.
You'll need:
1 large onion, chopped
2 cloves of garlic, finely chopped
Olive oil
Roasted red peppers, from a jar – otherwise use fresh red peppers
1 tsp sweet smoked paprika
1 tsp ground cumin
½ tsp mild chilli powder
400g of plum tomatoes
A pinch of sugar (depends how sweet your tomatoes are)
4 eggs
a handful flat-leaf parsley, chopped
Feta
Method:
Into a large frying pan on a medium heat, add a glug of oil and cook the onion and garlic (add the red pepper here too if it's fresh).
Stir in the roasted peppers, spices, tomatoes and sugar [optional]. and simmer for 10 minutes.
Make 4 holes in the mixture with the back of a spoon and crack an egg into each.
Cover with a lid and leave to cook until your desired egg consistency.
Top with feta and parsley.
Chocolate Peanut Butter Smoothie Bowl – Vegan
Serves 1
You'll need:
80g Frozen Banana
2 tablespoons of thick greek yoghurt
1 soft date
1 tbsp raw cacao
1tsp chia seeds
1 tbsp peanut butter
2 ice cubes
200ml almond / coconut / oat milk
OPTIONAL – protein powder (unflavoured or chocolate)
Toppings – optional:
Granola
Chia seeds
Peanut butter
Banana
Blueberries / raspberries / strawberries
Cacao nibs
Method:
Place all the ingredients together and blend – add more milk for desired consistency but you want this thick.
Serve in a bowl topped as you wish!